Welcome to the Gloucester Gulls...
The Gloucester Gulls are a group of exiled Torquay United supporters who happen to be living in the Gloucester area. A small, but none the less, dedicated group of supporters who are prepared to spend most of their Saturdays following their beloved team around the country.


This site is aimed not only at the members of the Gloucester Gulls, but to anybody who wants to find out more about Torquay United Football Club. In the coming months, we not only hope to report on the success of the team, but also add to the content of this site. If anyone has any comments to make, please e-mail your views so that we can ensure that your needs are met.

---
Stay in touch with the Gloucester Gulls
Social networking is currently one of the most discussed features on the intranet. Sites such as Facebook™ and Twitter™ are enabling groups of people to come to together and form virtual communities sharing common interests. In order to see how successful this type of media actually is, the Gloucester Gulls have formed groups on the following social networking sites:
| | | | |
| --- | --- | --- | --- |
| | | | |
| Facebook | X (Twitter) | Instagram | Flickr |
| | | | |
| | Tumblr | YouTube | Mastodon |
Most of these sites require that you register first in order to join the groups, but once you have joined you will be able to participate in discussion forums, take part in on-line votes and view and post photos and videos.
---
Follow the Gloucester Gulls on Twitter

Twitter has recently received a lot of attention from the national press with high-profile users such as Stephen Fry and Richard Bacon regularly praising the Twitter service. The Gloucester Gulls have been on Twitter for some time, but if you would like to follow our "tweets" click on the image above.
---
Recommend the Gloucester Gulls
To help you bookmark the Gloucester Gulls website so that you can quick return to it from your "Favourites" list, or to help you add a link to the Gloucester Gulls website from your social networking (Facebook; My Space etc) profile you can now click on the button below:
---
Access the Gloucester Gulls via QR codes
After social networking (e.g. Facebook, My Space etc. - see below), the new technology that everyone is talking about is the mobile web - or the ability to access the internet from mobile devices, for example mobile phones.
Leading the mobile web technology are QR (Quick Reference) Codes - a mosaic styled bar code that enables web addresses to be embedded within the QR code. A user having a mobile phone equipped with a camera and the correct reader software (a lot of Nokia phones now have this installed as standard) can scan the image of the QR Code causing the phone's browser to launch and redirect to the programmed URL.
| | |
| --- | --- |
| | |
| This website | Gloucester Gulls mobile website |
The Gloucester Gulls have taken the opportunity offered by QR Codes to launch a mobile version of this website which has been especially designed for ease of access when surfing the internet using a mobile phone. You will now be able to access the Gloucester Gulls whenever you are out and about.
---
Torquay United in Second Life
Second Life™ is a virtual world created by Linden Labs. It requires a downloaded program, but residents within Second Life are able to interact with each other through the use of avatars (3D-representations of a person).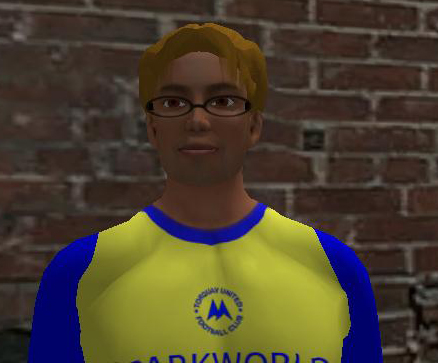 There is an entire world to be explored, with many major cities and landmarks having been created. However, of more interest to Gulls fans, a Second Life group has been created called "Torquay United Supporters".
---
---
The Gloucester Gulls Guest Book is once again available. Please record your comments, and read the views of others, from the Contact Us page.

| | | |
| --- | --- | --- |
| Number of visitors to this site | | since Saturday 3 July 1999 |